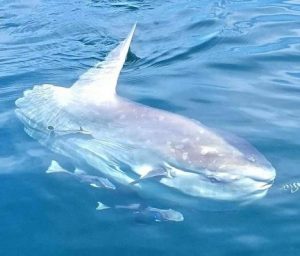 The 23 miles of white sand beaches lining Daytona Beach are home to more than just centuries of history, culture, and recreation. They are also home to countless varieties of wildlife, both land and seaborne, that can make any regular trip to the coastline even more exciting. Whether you're walking along the banks of the Halifax River or getting your feet wet in the surf of the Atlantic Ocean, always keep an eye out for Daytona's wondrous wildlife – they could be right under the surface.
Dolphins
Beloved due to their easily recognizable fin and playful nature, you can find dolphins frolicking in the waters of the Halifax River, as well as other canals near the ocean. These social creatures are attracted to the spotlight and love to show off for spectators. Dolphins are easily spotted from many pedestrian-friendly boardwalks and fishing piers in the Daytona area. They can be seen in packs following boats drifting through the water or leaping out of the water in a frenzy as they prey on bait fish. Join us on our Daytona Beach dolphin tours to get an up-close and personal look at these beauties in their natural habitat.
Manatees
Perhaps the exact opposite of the previous dolphins, manatees – or "sea cows" as they may be affectionately called – are slow-moving and blend in with their surroundings. They gravitate towards warm and still water so they can be seen in many of Daytona Beach's bays, rivers, and estuaries. Don't be surprised if you look into the water and see a friendly face looking up at you, that's just a manatee relaxing in Florida's warm rivers and ocean waters. Keep an eye out for odd-looking ripples along the water's surface as manatees may not be immediately visible due to their slow movements.
Sharks
Unlike dolphins and manatees, sharks are not very often visible from the shoreline, but they fortunately can be observed from the safety of a boat. Contrary to the frequent portrayal of these creatures in media, sharks do not prey on humans and only bite when they mistake us for their prey due to splashing in the water. Whenever they do bite, they typically let go immediately. These predators can vary in sizes from two or three feet long to five or six feet long. When you're sailing the open ocean water, keep an eye out for their fins emerging from the water. Join Captain Daddy on any of our shark fishing charters to battle this fearsome fish at your own discretion!
Sea Turtles
Daytona's beaches host these gentle visitors from May through October during their nesting season. The mothers come ashore in the darkness of night and lay their eggs in peaceful, protected sanctuaries on the beach. After about two months, dozens of little turtles hatch and emerge from the sand, then crawl their way to the ocean. If you're fortunate enough to observe these creatures during their nesting and hatching, please keep a safe distance as they are easily frightened but indulge in the wonder!
This is just a small fraction of all the incredible sea life that Daytona Beach has to offer. Rent a boat with Captain Daddy and join us on any of our deep sea fishing charters to get a much more personal experience with the many fish inhabiting our waters. In addition to our inshore fishing and offshore fishing charters, which both target their own respective species of fish, we also offer shark fishing charters and sunset dolphin tours. View our website to learn more about each of our available premier fishing trips and private tours.