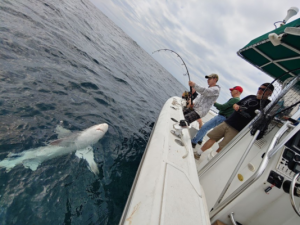 One of the most important distinctions in the fishing world is what constitutes the difference between inshore fishing and offshore fishing. When choosing which fishing charter sounds the most appropriate for your interests, you will typically see those terms and you may be wondering what exactly they entail. Due to the fact that every location and body of water has different topography and drop-off, they may be defined in different ways depending on the area but it can be most simplified as fishing closer to the coast versus fishing farther away from the coast, or deep-sea fishing. Continue reading to gain a better understanding of the two types of fishing so you can pick out the best Daytona Beach fishing charter for your preferences!
Time Constraints
Naturally, inshore fishing is more accessible due to the fact that you don't have to go as deep into ocean waters to cast a line whereas offshore fishing does require a longer travel time and often involves setting bait in multiple spots then rotating through them. On average, inshore fishing is typically four to six hours long and offshore trips can range from eight to 12 hours. With that being said, we do offer both inshore and offshore fishing charters ranging from four to eight hours, as well as a ten-hour deep-sea fishing trip if you'd like to make a day of it!
Quantity of Catch
The amount of fish you can and will catch also depends on the type of fishing you do. Offshore fishing is likely to yield a smaller quantity of fish due to the longer and more rigorous experience of reeling in a "trophy catch," a process that can take anywhere between thirty minutes to two hours depending on the fish at the end of your line. When fishing inshore, you are able to cast your line more frequently which means catching more fish – always try to beat your personal best!
Types of Fish
Typically, inshore fishing targets smaller fish while offshore fishing targets those bigger "trophy" catches. If there is a specific species of fish that you would like to try reeling in, this is the most important factor! Our inshore fishing charters target smaller catches, such as redfish, flounder, and trout and our offshore fishing charters target big game fish like mahi mahi and grouper. Though much bigger and more fitting for that prize catch photo, the larger species targeted in offshore fishing require heavier gear and put up a harder and longer fight.
Family Friendliness
Since inshore waters are much calmer than what you will experience offshore, there is a smaller chance for seasickness if you bring your little ones along with you on your fishing charter. Additionally, since the fish we target inshore are smaller and quicker to catch, it means your family will have more opportunities to cast their lines for the next catch which will keep everyone occupied and entertained. Plus, once it is time to wrap things up, you're a short drive back to land.
When planning your fishing charter with us, be sure to consider all of these factors as both inshore and offshore fishing offer different experiences, but both are also perfect for anyone who loves to cast a line on the open water. It depends on your personal preference and we are happy to help you find the perfect charter for your needs. Each charter is sure to give you and your loved ones an experience they won't soon forget!
Contact us today if you'd like more information regarding our services. In addition to our inshore charters and deep-sea fishing trips, we also offer shark fishing charters, a gulfstream fishing charter, and a beautiful sunset dolphin tour, amongst other things. Don't just rent a boat, go sailing on Florida's best fishing charters in the bountiful waters between Daytona Beach and New Smyrna Beach with Captain Tim Russell.