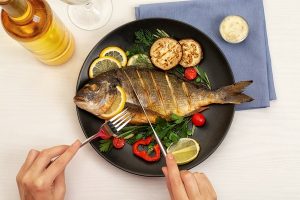 The Florida coast is teeming with all kinds of wonderfully tasty fish you can enjoy in endless ways both at home and in restaurants. Whether you want to take a boat out into the open waters and cast a line into the deep blue yourself or you prefer to pull up a chair and order your catch of the day from a local seafood restaurant, here are the four best tasting Daytona Beach Coast fish to eat fresh in Florida.
Grouper
There are more than 400 different species of grouper in the sea, but the most popular Florida favorites are Black Grouper, Red Grouper and Gag. This type of fish has a very mild flavor with a light, sweet taste and large, chunky flakes, almost like lobster or crab. Fish sandwiches made with either a thick slice of blackened grouper or battered and deep-fried bite-size pieces of grouper are one of the best and most simple ways to enjoy this fish. But you will also find it served in fillets which are baked, grilled or broiled with a flavor-bursting medley of garlic, butter, olive oil and key lime juice. Delicious!
Snapper
Just like Grouper, Snapper also comes in a huge number of varieties, with the most common ones in Florida being Red Snapper, Lane Snapper and Vermillion Snapper. Snapper is slightly more delicate than Grouper and it produces a more profound and sweet flavor when it is grilled – one of the best and most popular ways to serve it. In restaurants, you will find whole snappers stuffed with an amazing blend of sliced local citrus fruits, garlic and cilantro then grilled or baked whole in the oven. If you prefer your fish to be filleted, Snapper is amazing when marinated in the same citrus-garlic-cilantro mix mentioned above and quickly sautéed in a hot pan with a drizzle of olive oil before being served with light, fluffy rice and fresh seasonal veggies.
Snook
Snook is popular among local fishermen because it offers a fun challenge to catch and it tastes fantastic. Because it is illegal to buy or sell snook, you won't find them on restaurant menus. A word of caution: if you plan on catching one yourself, make sure you remove the skin before cooking. The skin of snook is renowned for its intensely soapy flavor which will put you off for life if you take a bite! The most common way to cook snook is to carefully fillet the fish then cover it in a light marinade or dry rub. Snook has got a really delicate flavor and texture, so you've got to use a gentle hand and only use a little bit of spice. Too much and you run the risk of losing the fish's superb flavor, which would be a terrible shame. After marinating, simply grill, broil or bake the snook until it's firm.
Mahi Mahi
Also known as Dolphin Fish, Mahi Mahi is another mild fish that tastes a bit like Grouper but is usually cheaper on restaurant menus. Because of its strong texture and gentle flavor, Mahi Mahi is one of the most versatile fish and is served almost every different way you can imagine. You'll find it blackened and served in sandwiches, marinated in Mexican spices and tucked into tacos, grilled and drizzled in a creamy citrus sauce, doused in lime juice and served raw as ceviche almost any way you could ever want to eat fish, you'll find Mahi Mahi offered just like it!
These four species of fish are not just delicious, they are also targeted on our incredible fishing charters! We offer a wide array of charters, including inshore and offshore trips, that are suitable to anyone's preferences. Browse our selection online to find the best fishing charter for you and prepare to set sail with Captain Daddy on a trip that you will never forget!