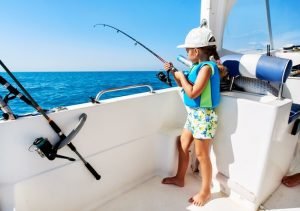 As summer break inches closer, you are probably beginning to think of ways to keep your kids entertained while school's out. If you are planning to take a beach vacation during this break, don't forget to put Daytona Beach on your list! With an abundance of nature, wildlife and pristine beaches, Daytona Beach is an ideal location if you are looking for relaxation along with some fun-filled family activities to keep the younger ones happy!
Fishing fun for the whole family
Daytona Beach fishing charters are a great way to introduce your family, especially your children, to the thrill and excitement of fishing. Book an inshore fishing tour for your group with Captain Daddy's Fishing Charters and let Captain Tim introduce you to the beautiful waters of Daytona Beach and all the amazing species of fish that can be found here.
So much to learn
Along with learning about the various type of fish and other marine life that call these waters home, families can also learn the basics of fishing if they haven't had any experience before. Fishing is a great way for adults and kids alike to take a break from technology and other distractions while soaking up some fresh air and natural sunshine outdoors. Fishing also teaches you how rewarding patience and perseverance can be.
Safe for the whole family
Captain Daddy's Daytona Beach fishing charters are safe for all age groups, and the various tour options allow you to choose something that suits the dynamics of your group. All you need to bring along is some sunscreen, snacks, and beverages and we'll take care of the rest. Don't forget to book your tour soon so that there's something exciting to anticipate with your family as summer break approaches!