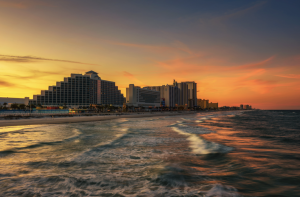 If you are avid angler, or live around Florida's eastern coast, you probably already know this but for those who haven't heard this before; there's nothing quite like fishing in Daytona Beach! With access to a range of various waters, this city offers plenty of marinas, beaches, and piers where you can target a plethora of species.
If you're looking for more reasons to plan a Daytona Beach fishing adventure this summer, here are our top 3:
Plenty of Fish
Whether you choose inshore fishing or decide to go offshore, there is such a wide variety of fish that you can target, you won't know what to go after! The best part about fishing in this dynamic city is that you don't even need to go too deep to land a large-sized bite. Two of the most popular shallow-water prizes are Redfish and Spotted Seatrout. Flounder, tarpon, sailfish, kingfish, and wahoo are all residents of these waters too – you just need to decide where and how far out you're planning to go to catch them!
Plenty of Spots
Depending on what sort of an experience you are looking for and what specie you are seeking to catch, there is a variety of spots you can drop a line from. The Daytona Beach Pier is a popular landmark of the city and also one of the most loved fishing locations. The Halifax River and Ponce Inlet Jetty also host great fishing spots along with some breathtaking views that make the experience even more worthwhile.
Captain Daddy's Fishing Charters
If you're looking for a thrilling and unmatched fishing experience in Daytona Beach, Captain Daddy's Fishing Charters are where you need to be heading. Whether you are with friends or family, Captain Daddy's offshore and inshore fishing tours are an ideal way of exploring the Daytona Beach waters and catching a variety of species. Call us now to book your trip and have a fishing adventure you won't forget!