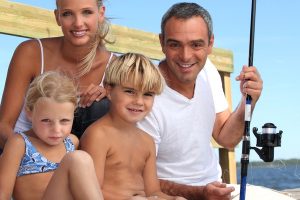 Although the summer break might be coming to an end, it doesn't seem like the warm weather and bright sunshine are going anywhere – which means, there's still lots of time ahead to plan some water adventures and make the most of this season.
One of the best ways to have fun on the water during these bright and sunny months is by experiencing a fishing charter excursion. Whether you want to feel the thrill of deep sea fishing or go on a relaxing dolphin tour, there are plenty of ways to enjoy yourself on a Daytona Beach fishing charter with your whole family!
At Captain Daddy's Fishing Charters, your safety and comfort remain our top priority and if you are planning some angling adventures soon, here are some of our top tips on how to remain safe on the water:
Dress Appropriately
Whether you are fishing on a charter boat or on your own vessel, it is likely that you will be under the sun for hours. Wearing sunscreen, a hat and layered clothing can protect you from getting sunburnt.
Handle Tackle Cautiously
Fishing gear can be quite sharp, and whether you are a novice or an experienced angler, it is always a smart idea to use these items cautiously. Always look over your shoulder before you cast your line to make sure there's no one too close to you who can get injured by your hook.
Don't Leave Your Fishing Equipment Lying Around
If you are fishing with company, it is important to store your equipment away safely so that no one trips on it or gets injured by sharp items lying around.
Plan It with a Pro!
Fishing trips can be a lot of fun, but the thrill and safety level go a notch higher when you experience one with a professional who knows the waters and all the angling techniques. Contact us at Captain Daddy's and book a fishing charter of your choice and our expert crew will make sure you have the time of your life!