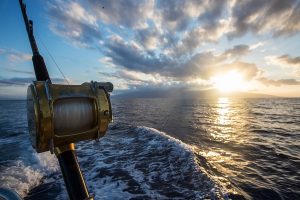 Fishing charters are designed to be an exhilarating, maintenance-free adventure that appeals to all your wildest fishing dreams. Whether that is casting a line for sharks or trying to achieve a new personal best for how much trout you can catch, there is a perfect fishing charter for all anglers. When perusing your options, do not get overwhelmed! Read on to let us help you narrow down your choices before reserving a deep-sea fishing charter!
Choose Your Experience
What might seem like a little distance to us aboard our boats changes so much about the fish in the water below. First, when picking a fishing charter, try to decide if you would rather do inshore or offshore fishing. As the names indicate, inshore fishing means staying much closer to shore to do all your fishing, while offshore involves going out much further. We recommend inshore fishing for novices because the trips are shorter, the fish are smaller, and the water is calmer. Further offshore, the fish grow larger, tastier, and fight back much harder.
Furthermore, consider if you are fishing for food or sport. If you want to pack a full cooler to bring home to your grill, you may want to choose an inshore charter where you can reel in plenty of fish. However, if you are most interested in reeling in that monster trophy catch for the perfect photo, your interests would be better suited to an offshore charter.
Choose Your Service
Once you settle on the right type of deep-sea fishing for you, it is time to find the perfect charter service. In today's day, you can fortunately find most of the information you could ever need right online! Mainly, you should be considering the captain, the boat, and pricing. Do not allow yourself to get swayed by flashy boat models or cheap price tags – it is the captain who makes or breaks the charter. Check the reviews to learn more about a charter's captain than just a star rating!
Cheaper fishing charters can be bait leading you right into a trap but leave that to the fish! There is more to choosing a charter service than just one number. A seemingly low price may be indicative of old equipment, a lack of insurance, or hidden additional charges. Before you check out, make sure you are aware of every involved fee.
Speak with the Captain
Like we said before, a fishing charter will only ever be as successful as its captain. Before committing to a trip, use the ease of access via internet and phone to communicate with the captain to ask a few critical questions! For example, consider asking which fish are biting at that specific time. Many species of fish migrate, and water conditions change week by week, meaning that no one charter going to the same spot will ever yield the exact same results. The captain can also tell you more about what you should bring, what happens with the fish, and additional information pertaining to discounts and insurance.
Book Your Charter!
Have you determined which fishing charter best suits your interests, as well as a trustworthy captain to boot, with transparent pricing and policies? All that is left to do is book! Booking is specific to each fishing charter, but we make it simple for you at Captain Daddy's Fishing Charters. Drop us a line on our website or call us at (386) 846-1675 for more information about our charters. We offer a plethora of services, including both inshore and offshore fishing, as well as shark fishing and even dolphin tours. Set sail with us for the perfect fishing trip through the beautiful waters of Daytona Beach and New Smyrna Beach!