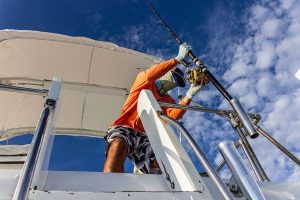 Is there anything better than booking a fishing charter, heading out on open water, and landing a sea monster that could become the stuff of legend in your circle of friends and family? Fishing charters are one of the best ways to take a summer's worth of memories over the top and into the next level of family lore.
Fishing Charters and Local Knowledge
It's no fun spending your hard-earned money on a fishing charter that just ends up becoming a sightseeing cruise.
You'll want to book a trip with a captain who knows where the fish are, when they're biting, and has the equipment required to bring them home.
Booking with an established local fishing charter company is a safe bet that when the captain ties up to the dock in the sunset after a great day on the water, you'll have something to talk about and the pictures to prove it.
It's All About the Experience
Fishing charters are all about experiencing something out of the ordinary, so make sure the one you pick will give you that experience.
The captain should be knowledgeable and have a great track record. The vessel should be clean and capable, the equipment should be more than adequate, and the whole shebang should be tons of fun. If those boxes don't get checked, keep on looking until you find something exceptional.
Deep Sea Fishing in Daytona Beach
If you're looking for Daytona Beach fishing charters, pick one with decades of experience, a deep and abiding passion for fishing, and a track record to prove it.
There may not be a more memorable experience than chartering a vessel for your family and friends to make memories on the open water together. Get ready for a great time!