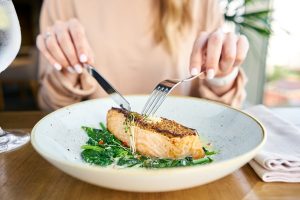 Get your fishing gear ready, take a deep sea fishing trip in Daytona Beach, and find out which fish are available to try and which you should not eat.
Prepping for a Deep Sea Fishing Trip
Deep sea fishing in Daytona Beach can be exciting. The Atlantic ocean offers a great opportunity for different varieties of fish. However, you should not eat anything you manage to catch. So how do you know which fish to eat and which to stay away from? If you are getting ready for a trip for some fishing activities, read on to find what you can eat and what you cannot.
Foods You Can Eat from Daytona Beach Fishing Charters
Pompano
One type of fish you should ensure you get while on your deep sea fishing trip is a Pompano. This type of fish has a unique flavor that is likely to excite your taste buds. However, it is quite the fighter and will make sure you work hard for that taste. They are silvery, flat and most of them weigh about four pounds. The best time to catch a pompano in Daytona Beach is around January to March or September and October.
Largemouth Bass
Another fish you may find tasty is the largemouth bass. Since these fish love eating eelgrass, most of them can be found in grassy flats lining George lake and ST. Johns River. Largemouth bass can be found any time of the year.
Spotted Seatrout
You can also enjoy spotted sea trout on Daytona beach. In extreme temperatures during summer, spotted sea trouts like hiding deep underwater as they seek the cool water.
Fish You Should Not Eat
There are some fish you can catch but release back into the water immediately to prevent death. Most Daytona Beach fishing charters can advise you on which ones to do this.
Tarpon
Tarpon fishing is pretty common on Daytona beach. Be prepared as this fish is likely to taste your patience. Therefore, get the right fishing gear for a chance of a catch. Also, note that tarpons prefer live bait. The best season to catch these fish is in September and October.
Grouper
Another type of fish that you should not eat is grouper. These types of fish have a large mouth and are not very picky when choosing bait. Although grouper fishing can be done any time of the year, the best time to catch them is from May to October.
Billfish
This is also another fish that is not easy to catch, and you can spend the whole day trying to get one. May to October is a great time to catch billfish, while January to March is a low season.
Prepare Today for Your Deep Sea Fishing Trip
Now that you know which fish you can eat and which to avoid, get your gear ready for a great time of offshore fishing.