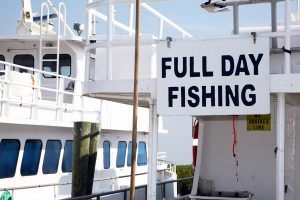 Many anglers sit idle during the winter months but the coming of spring brings favorable fishing conditions as well as a bevy of incredible fish to catch. Before setting sail or casting a line, it is best to get yourself and all your equipment prepared before reeling in that next big catch! Follow our 6 tips that are sure to prepare you in the best possible way for a fresh season of angling!
Take Inventory of your Gear
Before you can embark on your first angling adventure of the season, you need to locate all your fishing equipment and do a little inventory. Take careful note of items that need to be replaced, repaired, or lubed up so that you can have a better idea of what needs to be done still. Furthermore, consider writing down a shopping list of everything you want to pick up first before that first fishing trip, whether it be lures, guides, or more. This way, you can set yourself up for success to be the first one reeling them in while your friends are still prepping their lines.
Dive Into your Tackle Box
A good angler cannot waste time getting in their own way, and a messy tackle box that has been sitting in storage for months is only going to make your life harder when you should be enjoying all that warm springtime fishing. There is no need to color coordinate or organize lures alphabetically – think of it more like extra credit – but going through and cleaning your tackle box will give you a better idea of what you need and perhaps what you already have but forgot about. Refresh your tackle box with a quick clean and you will reap all the benefits on the water.
Practice Makes Perfect
You must notice by now that the best, most consistent anglers are those who practice often. As the old adage goes, practice makes perfect, and this is especially true in fishing! If you are intent on using angling equipment such as baitcasting reels and jigs, you can get all your practice in within the comfort of your own home. Practice flipping jigs into household items like cereal bowls to familiarize yourself with the equipment while also gaining invaluable muscle memory that will pay off when you are on the hunt.
Check your Fishing Lines
Fishing lines are the lifeline of every catch and they are the only thing connecting you to everything under the water that you want to reel in. Consider the fact that only a percentage of fishing line actually leaves the reel with each cast, and that portion is more likely to be nicked or frayed after extensive use than the rest. Spend a few minutes before hitting the water to examine your lines, looking for damages, and replacing if necessary.
Get the Gang Back Together…
If you have spent time apart during winter, spring is the perfect time to rally your old fishing buddies. With a simple text, call, or even email, you can get yourself and your angling circle pumped up for a new season. A few words can go a long way towards setting sail with high morale and even higher hopes.
…and Book the Perfect Fishing Charter
Have you gone through your checklist and are you ready to make new memories this spring? Then it is the perfect time to call Captain Daddy and pick out the perfect fishing charter for you! We provide both inshore and offshore fishing charters off the waters of Daytona Beach and New Smyrna Beach that are sure to leave you with priceless memories and trophy catches – including exclusive shark fishing charters and dolphin tours! Let Captain Tim take you and your friends on the water to kick off spring with an epic adventure.