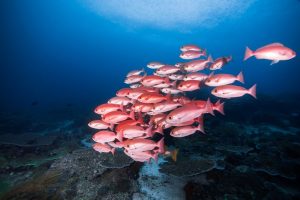 An offshore fishing charter is as exciting as inshore fishing, especially when you're out looking for the red snapper. Starting at 30 meters, deep-sea fishing trips offer anglers a fun time and the challenge of their lives. Keep reading to learn everything you need to know about offshore red snapper fishing.
Where To Find Red Snapper 
The National Oceanic and Atmospheric Association (NOAA) says the red snapper is redder in deeper waters than shallow waters. They have large, canine-like teeth and a triangular face, and can sometimes live up to 57 years old in the Gulf of Mexico and 51 years old in the South Atlantic.
Found predominantly around Florida, efforts were made in 2005 to ensure the supply of the Gulf of Mexico's red snappers increased by 2032. Here, the concern is overfishing, or, when casual and commercial anglers fish too much, thus reducing the population of fish species in the water. Fortunately, Daytona offshore and inshore fishing may give you an opportunity to reel one of these bad boys into your boat.
Daytona Beach Epic Fishing Charters
Daytona Beach fishing charters can range from $450 to $700 for inshore trips and up to $500 to $900+ for offshore fishing trips. Here are some fish aside from red snappers you might have the chance to catch on a Captain Daddy's Fishing Charter:
Grouper
Barracuda
Shark
Sailfish
Triggerfish
Kingfish
Wahoo
Seabass
Snappers
What Do I Pack For A Deep Sea Fishing Trip?
Wear a rain jacket to protect your body from the water. Light clothing is ideal as your body needs room to maneuver. Additionally, having a change of clothes, food and water can keep you feeling fresh and hydrated while reeling in the toughest fish in the sea. Conduct research on a fishing charter's website to learn specific safety guidelines, along with anything that they might provide on the trip.
Final Words on Inshore Fishing
There is no shortage of available fish near Daytona Beach – so get to it & get catching! Offshore fishing in Daytona Beach can set you up for the thrill of a lifetime, especially if you're lucky enough to haul in a large red snapper. With knowledge and the right safety measures in place, there isn't anything that can keep you from scheduling a trip with Captain Daddy's Fishing. Contact us today for your first trip!