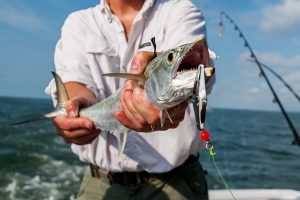 If you love the thrill of a tug on your fishing line, there are few experiences more fulfilling than venturing into deep ocean waters to catch some truly spectacular and massive specimens of the aquatic world. Of course, you'll need to know which type of boat service offers the experience you crave.
What's the difference between fishing charters and party boat fishing, and which is right for you?
Party Boat
Also referred to as "head boats," party boats are so called because of the fact that they can accommodate large groups, often for less cost per person. This option can be great for first-timers interested in trying out deep-sea fishing, but there are some potential drawbacks.
First, you will likely be on a boat with a lot of strangers. While you might enjoy getting to know your fellow passengers, you could also be stuck for several hours with some unappealing shipmates.
Often, party boats have set schedules, so certain destinations or durations may not be available on your preferred date. These services usually require a minimum number of passengers, and failure to book fully could mean that your reservation gets canceled or rescheduled.
Fishing Charters
A deep-sea fishing charter, particularly a private boat, will cost you more than a trip on a party boat, but you gain a lot of benefits. For one thing, you'll enjoy the privacy of a smaller boat with only the people in your party, as well as the personal attention of your captain, which appeals to more serious anglers.
You'll also have a lot more opportunities to choose the options you prefer, like the duration of your trip on your desired date, the type of fishing you prefer (i.e., targeted species), and options for other excursions like dolphin sighting or sunset tours, for example.
Even though both types of services tend to provide necessities like rods, reels, coolers with ice, and fishing licenses, you'll find that one is much more customizable and accommodating. This information should help you choose the right fishing experience for you.