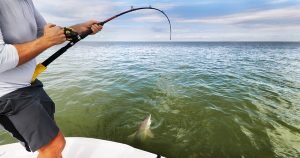 With millions of sharks migrating through Daytona Beach each year, fishermen have repeatedly caught magnificent sharks. In fact, Daytona Beach is known as the shark capital of Florida, and Daytona Beach shark fishing is widely known as some of the best in America.
However, Daytona Beach is only one small area of an entire world packed with shark-filled oceans and rivers. Let's take a look at a few of the largest sharks ever caught around the globe.
The Biggest Record-Breaking Sharks Ever Caught
1. White Shark — 2,664 lb
The biggest fish of any species ever caught was a 2,664 lb white shark on April 21, 1959. Off the coast of Ceduna, Australia, angler Alfred Dean and his team of fishermen were able to reel in the great white shark after 70 minutes of battle.
Alfred Dean was a remarkably successful shark angler who caught seven great white sharks over 2000 lb. Furthermore, he reportedly lost one in 1952 that was estimated to be around 4,000 lb.
Since great white sharks are a protected species around the world nowadays, Dean's record most likely will never be broken. Daytona Beach shark fishing experts are still bewildered at the level of mastery Dean attained despite starting fishing only as a middle-aged man.
2. Tiger Shark — 1,785 lb 11 oz
The second biggest shark ever caught was a tiger shark that weighed 1,785 lb 11 oz. Once again, the shark was caught in Australia off the coast of Ulladulla. In 2004, Kevin J. Clapson broke the previous captured tiger shark record by only 5 lb 11 oz.
However, the IGFA has a rule that new records must be larger than the previous record by a half of one percent. In this case, Clapson's' tiger shark needed to weigh 8 lb 14 oz heavier than Maxwell's, the previous record holder.
So as it stands, the IGFA list Clapson and Maxwell as joint record-holders despite Clapson's shark being slightly heavier.
3. Greenland Shark — 1,708 lb 9 oz
In 1897 off the coast of Norway in Trondheimsfjord, angler Terje Nordvedt caught the third largest shark ever. The Greenland shark weighed in at 1,708 lb 9 oz. Although anglers have caught larger sharks, they were released alive, so they were not eligible for consideration by the IGFA.
Daytona beach shark fishing experts recognize Greenland sharks as one of the longest-living species in the world. Greenland sharks have been confirmed as living for over 272 years and can likely live hundreds of years more.
4. Sixgill Shark — 1,298 lb
The sixth-largest shark ever caught (due to the joint-record holders for #2) was a sixgill shark weighing 1,298 lb.
Angler Clemens Rump was able to pull the shark in off the remote Ascension Island, which is located in the middle of the Atlantic. The sixgill shark is also called the cow shark because of its unique gills, and it can grow up to 16 feet in length.