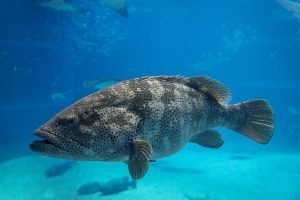 With the holiday season and changing of the year behind us, spring is just around the corner and time to book your Daytona Beach Fishing Charter. As such, conditions in the water change and new fish will be entering our waters. As the ocean heats up, we will be welcoming some familiar faces to our neighborly waters. Continue reading to learn which species of fish the waters will be teeming with and may end up going home with you on a Captain Daddy fishing charter!
Cobia
Distinct for their long gray and white lateral stripes and broad head, this species is popular in the early-season because they tend to migrate closer to the shore as spring sets in and warms the water – something that we are all too familiar with in Florida . In addition to their abundant numbers, they have great taste and are relatively easy to catch. Cobia spend their winter months near the Florida Keys, but approach Daytona Beach in large numbers in March. Cast a line in front of this fish and give it plenty of action to ensure a painless catch.
Spanish Mackerel
This beautiful species – adorned with colorful markings down its sides – spawn along the Atlantic Coast from April to September after coming down from the cooler northern waters in spring. The Spanish mackerel has a few cousins ​​in the mackerel family, although this species has some of the darker and more flavorful meat, which makes it a prime target in spring. Spanish mackerel travel in schools and chase their prey, such as anchovies, to the surface of the water so if you see a flock of birds diving for bait, there is a good chance that Spanish mackerel may be found below.
Trout
Various types of trout travel to Florida in March and stick around until late fall. This species is the 4 th most popular catch in North America due to its coast-to-coast abundance, as well as its exciting fight and good taste. The beauty of this fish is their willingness to strike at artificial lures. Aggressive pops with a pause afterwards will usually result in quick action from trout. No matter the method of fishing that you use, trout fishing is simple but challenging enough to suit any angler.
Red Fish
This species of fish hangs out around Florida all year long but remains an angling favorite in springtime. Red fish earn their title with their copper scales and they can also usually be identified by one or more spots at the base of their tail. They migrate inshore from estuaries and are regarded for their bullish runs and stamina, which makes them a favorite of anglers.
Grouper
Season for grouper closes January 1st through April 31st and remains open throughout the rest of the year. This species is primarily offshore, favoring rocky bottomed areas, making them a favorite game fish on charter excursions. These behemoths can weigh 100 pounds or more and usually provide a comparable battle on the rod as well. This, in addition to its incredible flavor, make the grouper a thrilling target for all anglers.
Captain Daddy offers a plethora of fishing charters which target many of these popular springtime fish, all you have to do is look over our selection and contact us today to book your charter! Whether inshore or offshore fishing, we have the perfect trip for you. Set sail with us on a Daytona Beach fishing charter that you will never forget!