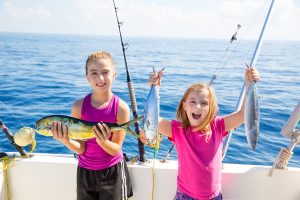 If you are looking to spend some quality time with the family while enjoying the outdoors, look no further than Captain Daddy's deep sea fishing charters in Daytona Beach. With so many various charter options to pick from, Captain Daddy has something for everyone – whether you are a family with young children or a group of friends, the thrills are endless.
Spending quality time with friends and family is always a refreshing change but enjoying those hours on an angling adventure under the sun with the salty breeze around you makes it even better.
Here are our top three reasons why you should plan your next family fun day on a Captain Daddy's fishing charter trip:
All Age Groups Are Welcome
Sometimes even when you are under the same roof, it becomes hard to spend time together as a family. Either there are too many distractions or there are too many commitments keeping you from having some carefree time together. A Daytona Beach deep sea fishing charter is a perfect way to get away from the hustle bustle of daily life and unwind as a family. Unlike other outdoor trips where you have to be considerate about children and seniors in your family, fishing charters welcome all age groups. You can make your angling adventure as thrilling or as relaxing as you want.
Pick Up Some Fishing Skills
Whether you are a group of serious anglers or a family that just wants to kick back and enjoy some easy fishing, you are bound to pick up a few fishing skills while you are out in the water. All our trips include rods, reels, ice, and coolers so you just need to think about what you are planning to catch during your excursion. From Dolphins, Seabass, Snappers, and Kingfishers – you never know what you'll end up coming across so get ready for lots of excitement onboard as you reel in some great catch!
Safe and Hassle-Free Adventure in the Deep Sea
At Captain Daddy's you don't need to worry about bringing any equipment and gear – we take care of all of that. You just need to bring yourself along with your preferred snacks and beverages and let us provide the rest. Make sure to pack some sunscreen and hats to protect yourself from the bright Florida sun. Our trips are designed to keep the whole family entertained, whether you are out fishing for the first time or happen to have years of experience. There is nothing like the excitement of landing a big catch, and if you have younger people in your group, this is a great chance to introduce them to the sport of fishing as well!
With an experienced Captain by your side, you don't really need to worry about anything. From what spots to drop the lines at to keeping all safety measures in mind – we have everything sorted. Contact us now to book your deep-sea fishing charter and make memories that will last for years to come!